(The New Evidence That Demands A Verdict)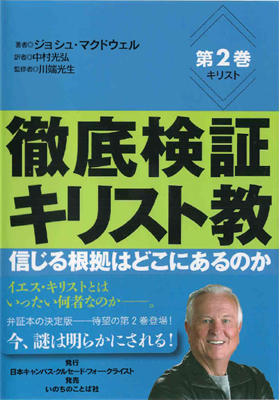 The New Evidence That Demands A Verdict (Japanese Version)
Book 2 – Christ
Who is Jesus Christ?

弁証本の決定版――待望の第2巻登場!
第2巻では「ナザレのイエスは実在したのか」「イエスは自分のことをどのような存在 として語ったのか」「どうしてイエスが神だと言えるのか」等、イエスをキリストとし て信じる上で多くの人々が直面する問題を徹底的に解明します。
今、謎は明らかにされる!
第2巻の目次:
実在したイエス
神でないならアカデミー賞もの
神性の意義――3つの選択肢(神か、詐欺師か、正気を失った者か)
神性の証明――旧約聖書の預言の成就
神性の証明――復活は虚偽か事実か
神性の証明――仮定からの論証
Part I addresses the reliability of the Bible;
Part II offers historical evidence and supporting attestations for Jesus' claim to be God;
Part III addresses "radical Christian criticism" of the Bible;
Part IV is devoted to quelling the voice of numerous skeptics, including "a defense for the existence of miracles" and "answers to divergent worldviews."
For more information about the original version, please visit here.